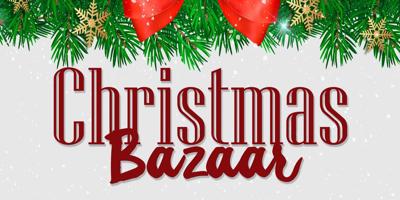 We are happy to announce that our Christmas Bazaar is back. It will be held on Saturday, Nov. 13, 2021 from 9 AM – 3PM. The day will begin with Breakfast with Santa. We will also have Vendors, a bake table, theme baskets, a toy wheel, Deacon's Attic, and the kitchen will be open.
WE NEED YOUR HELP TO ENSURE THE SUCCESS OF OUR BAZAAR
We are looking for donations of all kinds:
– New toys, sports items, dolls, stuffed animals, etc. for our Children's Toy Wheel
– Theme Baskets of all kinds that you wish to make and donate to the Bazaar. – Empty baskets for the baskets that the parish basket making committee will be putting together for the Bazaar. If you have items you would like to donate for use in a basket, we will gladly accept them and make up the basket. If you would like to donate cash, we will purchase items to make a basket on your behalf.
– Alcohol and wine and beer for our Basket of Cheer and Wine Rack
– Culinary delights for our baked goods such as cookies, cakes, cupcakes, fudge, brownies, candies, etc. for this table.
We will also be selling chances for sporting events. The grand prize is 2 tickets each for 3 Eagles games, 2nd prize – 2 tickets for a 76ers game and 3rd prize – 2 tickets for Flyers game (these chances are $10.00 each. These chances we will be selling at Masses prior to the bazaar and if anyone would like to take some to sell, I'd be happy to talk to you.
LAST but not least, we need volunteers to work the bazaar at the tables and in the kitchen. We could also use help the weekend before and nights during the week for set-up.
We request that all donations (Except for the baked goods) be dropped off at the Church or rectory by Nov. 6, 2021. If you can't drop it off, please contact me Rose Moran 610-256-9127 or rosetimmoran@gmail.com.
Questions about the baskets can be directed to Donna Lane @ 610-574-7870.
Thank you in advance for your generosity and support! The Christmas Bazaar Committee