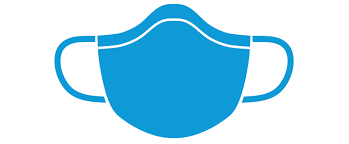 BEFORE COMING TO MASS
Please wash your hands for 20 seconds using soap and water.
Before entering the Church, please put on a face mask or cloth covering. Exceptions to this are "children younger than 2 years old, anyone who has trouble breathing or is unconscious, and anyone who is incapacitated or otherwise unable to remove the cloth face covering without assistance" (CDC Guidelines).
Please do not come to Mass if you are sick or are at higher risk for severe illness with COVID19 (see above).
Missalettes will not be in the pews during this period. You are welcome to bring your own missal/readings with you.
The Offertory Procession, the Sign of Peace, and Holy Communion from the Chalice will all be suspended.
SEATING
When taking your seat, please honor all posted signs about where you may sit. Members of the same household may sit together as normal. Please place 6 feet between your household and members of a different household.

GENERAL POINTS
The obligation to attend Mass on Sundays and holy days of obligation continues to be lifted during the Green Phase. You are not required to attend Mass at this time. 
Please stay home if you are sick. 
Please stay home if you are at higher risk of severe illness with COVID19. 
If you are uncertain about your risk status, please consult your doctor and also the CDC Guidelines at the link below.
Attending Mass guidelines Click Here
Click here to read the CDC Guidelines for those at higher risk: https://www.cdc.gov/coronavirus/2019-ncov/need-extra-precautions/people-at-higher-risk.html



We look forward to seeing you in Mass. Please keep a watch for further directions as they become available. Please know that we will do all that we can to keep everyone safe and healthy.

Sincerely,
Father Devlin