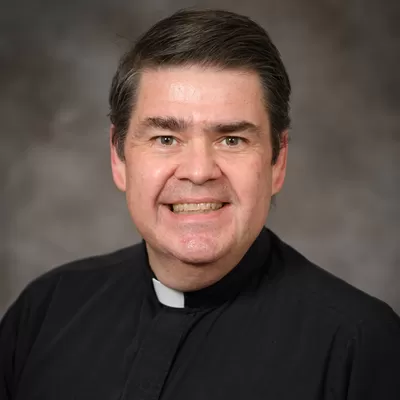 Rev. Joseph C. McCaffrey
Father Joseph McCaffrey, ordained for priestly service for the Archdiocese of Philadelphia in May, 1999, has assisted the Little Flower Community as its School Minister since September, 2002. In his seventeen years of service to our community Father McCaffrey has taught all grade levels of Theology, reorganized the Latin coursework with an Ecclesial dimension, and initiated a supplementary Theology course (dubbed 'Catholic Lab') serving as an introduction for students with limited Catholic backgrounds or as a bridge for students fully initiated into the Catholic Faith. Father's achievements with the Catholic Lab were recognized in the Winter, 2018 issue of Ignite Magazine.
Father encourages all to be aware of the continual Incarnational presence of God and to celebrate his presence by using the talents he has endowed. The student group 'Liturgical Friends' derives its name from the Gospel According to St. John: "I have called you friends" and encourages the students to embrace their friendship with God and St. Thérèse through their unique, simple, and loving service.
Fr. Joe