Welcome to Our Lady of Peace!
Our Lady of Peace Roman Catholic Church, is located at 208 Milmont Ave., Milmont Park, PA 19033. OLP was founded in January 1922, and merged with Notre Dame de Lourdes in 2014. We have Masses at both Our Lady of Peace Church, and Notre Dame de Lourdes worship site at Fairview Rd. & Michigan Ave. in Swarthmore.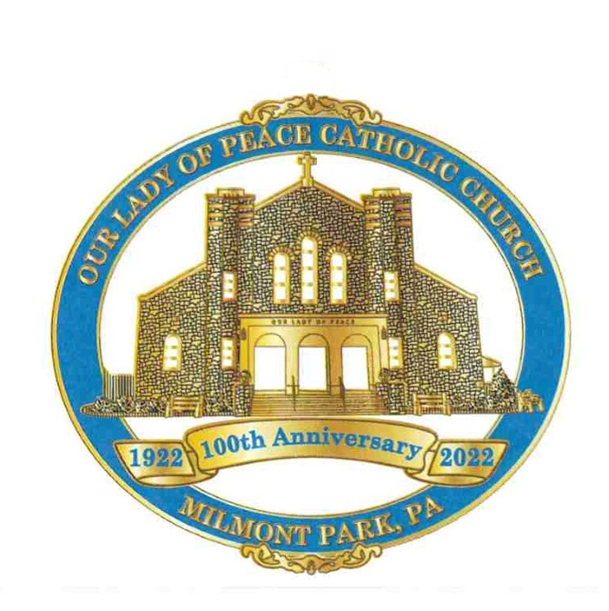 100th Anniversary
Shortly after arriving in June of 2018, several parishioners mentioned how the parish property "seemed to be let go" or "looked run down." For the last 3 1/2 years, we made great strides (and at much expense) fixing up, cleaning up and restoring the parish buildings and grounds at both sites. Thank you very much for your financial support of these various projects. Now I'd like to focus on the interior of OLP Church.
As we begin the celebration of OLP's 100th, I have contracted Mr. John Tran to professionally clean OLP Church. John began the painstaking process of cleaning the marble and terrazzo floors last Monday, January 3rd. And you can see already he does beautiful work treating the surfaces, wiping away the layers of dirt, and restoring the material to its original luster.
Since this project is very labor intensive and specialized and will take 2 1/2 months to complete, to clean the whole church (floors, walls, altars, statues, crucifix) will cost $33,300. Since it's traditional to have a fundraiser during a parish's anniversary, I'd like this to be our special project marking this milestone. Would you help us reach this fundraising goal?
Father Devlin
MASS AND CONFESSION TIMES
WEEKDAY MASS SCHEDULE:
Mon-Tue & Wed: 8:30 AM (OLP Church)
Thursday: 8:30 AM (Notre Dame Church)
WEEKEND MASS SCHEDULE:
Saturday Vigil Mass:
4:30 PM (OLP Church)
Sunday Masses:
7:30 & 11:30 AM (OLP Church)
10:00 AM (Notre Dame Church)
CONFESSION TIMES:
Saturdays 3:30 PM – 4:15 PM